Books by and for 22nd Infantry Veterans
These pages are provided as a courtesy to those who are offering books for sale and those who wish to purchase them.   The Authors presented on this page will be making donations to the Awb Norris Scholarship Fund for every sales they make.  It is important that you include 22nd after your name when contacting the authors.
The page sponsor makes no representations regarding the items offered for sale.  All transactions are strictly between the buyer and the seller.  The page sponsor is not responsible for any of these transactions which can be completed at the website indicated with each author.
Books written by Bob Babcock, To purchase, please see his website at: www.deedspublishing.com
(Be sure to include –22nd after your name). Bob served as a platoon leader and then XO for B Company, 1st Bn, 22nd Infantry in 1966 and 1967.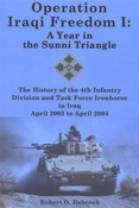 Alerted in January 2003 to attack Iraq through Turkey, the 4th Infantry Division and Task Force Ironhorse, was frustrated as government indecisions left them sitting in the United States as the war in Iraq began. When the Turkish plan was canceled, the 173rd Airborne Brigade became the first TF Ironhorse Soldiers to enter the battle as they made a night parachute drop into northern Iraq on March 25, 2003. Within three weeks the remainder of the 4ID and TF Ironhorse was rerouted through Kuwait and attacked into the Sunni Triangle, Saddam Hussein's home area.
For the next twelve months, the over 32,000 troops of the 4ID and TF Ironhorse, led by then MG Raymond Odierno, fought in places like Tikrit, Bayji, Samarra, Balad, Taji, Kirkuk, Baqubah and other places that would become engraved in the history of America's military. A full chapter describes the historic capture of Saddam Hussein on December 13, 2003. 369 pages, hard cover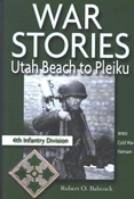 This 700 page soft cover book includes 450 war stories from veterans of the 4th Infantry Division – 325 from WWII, 25 from the Cold War, and 100 from Vietnam. Stories range from a paragraph to eleven pages in length – all are the memories of those who fought across Europe, kept the Russians at bay during the Cold War, and fought in the central highlands of Vietnam.
What makes this work unique is that it is based upon his wartime writing as it occurred, without the softening of time and the refining of modern memory applied to past experience. In it you will find the thinking of a young officer as he struggles to take in all that he is responsible for while experiencing everything himself for the first time. It is an honest, unvarnished look at Soldiering in 1966-1967 and is as fine an example of the early American experience in Vietnam that one is likely to come across…" The personal account of Bob Babcock's experiences as a platoon leader and executive officer with Bravo Company, 1st Battalion, 22nd Infantry Regiment, 4th Infantry Division in Vietnam in 1966 and 1967.
Book Written by Jim Ross, to purchase contact Jim at: pathfinder66@earthlink.net. Be sure to include –22nd after your name. Jim served with Alpha Co., 2/22nd Inf. (M), February - November, 1970.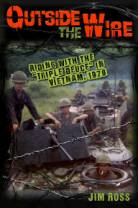 Outside the Wire is a thoughtful, action-packed memoir of one American soldier's combat tour in Vietnam. The story begins with an ambush patrol that falls under friendly fire, and the drama and tension never let up, through the large moments and the small. While in-country, the author served as a rifleman, machine-gunner, tunnel rat, and demolitions man. Exceptionally vivid and gut-wrenchingly honest, Ross's memoir of his tour in Vietnam is one of the finest to come out of the war. This book was a finalist in the 2013 Next Generation INDIE Book Awards, a national competition.


Book written by Steve Russell, to purchase contact Steve at   on facebook at:
https://www.facebook.com/pages/We-Got-Him-A-Memoir-of-the-Hunt-Capture-of-Saddam-Hussein/207343929299624 , or at info@vets4victory.com (Be sure to include –22nd after your name). Steve Commanded 1st Battalion, 22nd Infantry from 2003 to 2005.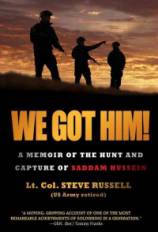 No other event in Operation Iraqi Freedom caught the attention of the world like the hunt for and capture of Saddam Hussein. Square in the middle of the search, living in Saddam's hometown of Tikrit, were Lt. Col. Steve Russell and his men of the 1st Battalion, 22nd Infantry Regiment, 4th Infantry Division. Packed with rare photos and insider information, We Got Him! chronicles the day-by-day search and the successes and dead ends as regular and special-operations soldiers tore into Saddam's social networks. This is the definitive account of this major historical event and of the sacrifice that made it happen. It also provides a rare look at the enemy side of the action. With his extensive journal notes, combat reports, and painstaking research, Steve Russell has preserved the story as only someone who lived the experience can do.
Illustrated book by Jim Nelson: Vietnam War Paintings.
To order, contact Jim Nelson, 345 180 Road, Jewell, KS  66949-1873 or by e-mail at jimandsharon222@yahoo.com. Be sure to include –22nd after your name. Jim served with C company, 2nd Bn, 22nd Infantry in 1967 and 1968.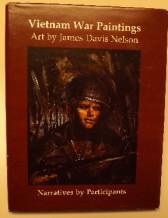 This book preservesfin an authentic presentation of the Vietnam war as it experienced by the
common soldier.  Paintings and narratives are combined in this book. Narratives by Participants.
Book from the 22nd Infantry PX: To order, contact Jim May, Vietnam Triple Deuce PX,  jlmay@tds.net. Be sure to include –22nd after your name.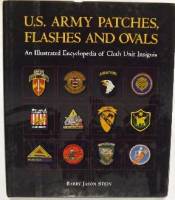 U.S. ARMY PATCHES, FLASHES AND OVALS
An Illustrated Encyclopedia of Cloth Unit Insignia This book presents over 400 pages of information about the patches as well as related information.  In addition, there are an additional 84 pages of full color plates of unit insignia.
Book from Samuel Finlay, "Breakfast with the Dirt Cult", To order contact  him at: samuelfinlay@hotmail.com.  Be sure to include –22nd after your name. He served with Alpha Company, 2nd Bn, 22nd Infantry from January 2001 through September 2005.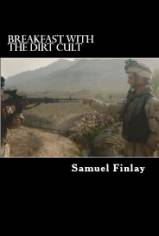 "I'm going to make a pinkie-swear with you right here and now, Tom Walton; when, not if, you return from Afghanistan, you must come up here and I will have a mad passionate affair with you..." With this proposal, Thomas Walton, an infantry soldier in Alpha Company, Second Platoon, arrives at the threshold of events that will change his life forever. Breakfast with the Dirt Cult chronicles the days of love and war in the life of Tom Walton. Torn between a beautiful, bibliophilic, Canadian ex-stripper and the hunt for Al-Qaeda in the mountains of Afghanistan, Walton finds himself forced to grapple with being a young man in the days of modernity. While Breakfast with the Dirt Cult has been written as a novel, it is based on a true story. The names have been changed and the chronology has been condensed for the sake of editing.
Book from Multiple Authors: "History of the Twenty-Second United States Infantry 1866-1922"
This book may be viewed online at: http://archive.org/details/historyoftwentys00unitrich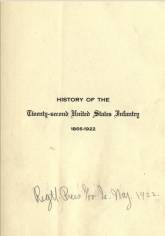 An historical sketch of the 22nd Infantry was first prepared by Major O. M. Smith, U. S. A. Retired, when a First Lieutenant of the 22nd Infantry. The history from the beginning of the Spanish- American War to 1904 was written by Captain W. H. Wassell, 22nd Infantry. Captain Daniel S. Appleton, 22nd Infantry, brought the history up to date from records supplied by the Adjutant.
"TO THOSE MEMBERS OF THE REGIMENT WHO, IN LINE OF DUTY, HAVE CREATED "BLANK FILES" IN ITS RANKS, THIS BOOK IS RESPECTFULLY DEDICATED.
"
The regiment is indebted to Colonel John McA. Palmer, 22nd Infantry, and Major William R. Smith, 22nd Infantry, for editing and preparing this work for publication.
G. C. GRAHAM,Captain, 22nd Infantry
Adjutant.